Stinky Grooves 27.11.08
Stop Parching Yourself (Fulgeance Booty Call Rmx) – Kelpe (DC Recordings)
In The Void (Rupture Remix) – Shackleton (Skull Disco)
Shortwave (Pole Rmx) – Shackleton (Skull Disco)
Router – Pangea (Hessle Audio)
Circling (Bass Clef Rmx) – Appleblim & Peverelist (Skull Disco)
Township Funk – DJ Mujava (Warp)
Nah Help You Riddim – Stephen McGregor (Big Ship)
Nah Help You – Busy Signal (Big Ship)
Done Wid War – Busy Signal (Busy Signal Productions)
Arab Money (Reggae Mix) – Busta Rhymes (Universal)
Bang Bang – Brevi feat Cham (Universal)
No War Obama – Busta Rhymes, Kardinal Offishall & Barrington Levy
Eye On The Dub – Richard Phoe (Phoe Love)
Gemini (Pilooski Edit) – Del Shannon (Dirty Edits Vol2)
Das Feur (Pilooski Edit) – Holger Hiller (Dirty Edits Vol2)
AM:FM – Richard Sen & Cazbee (Mixed Cuts)
Tropical Waste (Idjut Boys Edit) – The Emperor Machine (DC Recordings)
Head Hang Low (Depth Charge Rmx) – The Oscillation (DC Recordings)
Crying Blood (Andrew Weatherall Dub) – VV Brown (Island)
I'm Just A Dread – Jacob Miller & Trinity (Soul Jazz)
Stay A Yard And Praise God – Jah Walton (Moodisc)
Let Me Tell You Boy – Ebony Sisters & I Roy (Moodisc)
Natty Congo Rides On – Jackie Mittoo (Jamaican Recordings)
Soul Sensation – Freddie Grant (Scorpio Sounds)
Dejala Corre – Banda Los Hijos De La Nina Luz (Soundway)
Afro Spot – Lightning Head (Lion Head)
I Feel Good, Put Your Pants On (Pilooski Edit) – Jackson Jones (Dirty
Edits Vol2)
Holy Jungle (Mark E Pressure Dub) – Ghost Note (Golf Channel)
Over Here (Brendon Moller Mix) – Appleblim & Peverelist (Skull Disco)
I Heard Wonders (Andrew Weatherall Remix) – David Holmes (Mercury)
F.U.R. – Black Acid (Fitzrovian Phongraphic)
Vampire Blues – Wooden Shjips (Sick Thirst)
Crawfish (Pilooski Edit) – Elvis Presley & Kitty White (Dirty Edits Vol 2)
Into The Breeze – The Alps (Type)
Almost as schizophrenic as the weather, selection wise…..
This weeks show was wriggling with remixes and exploding with edits, so it seems just and decent that we should wang one oop here for a mo. The edits were courtesy of Paris's supreme Dirty Soundsystem whose most edutaining blog, alanfinkielkrautrock, you can spot just over to the right amongst the fistfull of the whiffily endorsed sites. Their brand new 'Dirty Edits Volume 2′ CD, and the scorching new Pilooski 12″ taken from it, dropped in the mailbox today and I'm frankly surprised the K Road Post Office managed to contain such mightyness within its' walls, yes… that large!
On the remix tip, the new Skull Disco compilation is Shackleton and Appleblim's last release in the legacy, and the final chapter in the trials and tribulations of the appallingly treated, titular
soundboy
. Since the label kicked off in 1995 that soundboy has had his "nuts grounded up proper" (on the scorching 'Blood On My Hands' 12″),  his bones getting repetitively "buried in the dirt" (on the Shackleton/Gatekeeper split 12″ and the Shackleton/Appleblim 12″ with the knee-knockingly moody 'Hamas Rule' ) before his "ashes were chopped up and snorted" on the devilish depth charge that is  'Vasan/You Bring Me Down'. The game was up, and the jig was juggered earlier this year, when the "soundboy's suicide note" was discovered, featuring Shackleton's darkest explorations yet (The Rope Tightens/The Branch Is Weak) on a fearsome four tracker. 
Concluding the misery of  the much maligned figure is the new compilation, 'Soundboy's Gravestone Gets Desecrated By Vandals', which is a double-disc, deathly delight with originals joined by remixes from a stellar cast of widescreen  innovators. Every remix is worthy of the source material, but I've pulled out Rupture's brief ballistic makeover of  In The Void because it's exquisitely odd, and not like much else out there (you can check Ruptures Mudd Up and Dutty Artz blogs on me bloglist just to your right too!) That's points and prizes in my book.
And their covers have been harmoniously unique and downright brilliant too!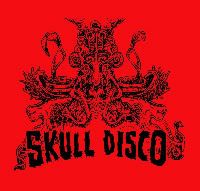 (Buy) Enzedders should be able to get this local yokel style without too many worries in the dance.
(Web)
SHACKLETON – IN THE VOID (DJ RUPTURE REMIX)
Done already, buy the CD, you owe it to yourself.