Turn Away – LV (Hyperdub)
Meltdown – King Midas Sound (Hyperdub)
We Could Be Ikons – Ikonika (Planet Mu)
Level 9 – Mala (Hyperdub)
Pretension/Repulsion (Four Tet Rmx) – Manic Street Preachers (Sony BMG)
Couchi Dub (Wascal Refix) – Niney The Observer
Hill And Gully Dub – Niney The Observer & Soul Syndicate (Jamaican)
Money – Alborosie
August Town – Etana
Put The Stereo On – Gappy Ranks (Peckings)
Heaven In Your Eyes – Gappy Ranks (Peckings)
Come With Me – Jahdan Blakkamoore (Gold Dust)
Go Go Club Instrumental – Russian
Brother Johnston's Travelling Disco Consultancy – Andrew Weatherall (Rotters Golf Club)
Dancing On Silk – Canyons (DFA)
Fail We May, Dub We Must – Andrew Weatherall (Rotters Golf Club)
The Indian (Mock & Toof Rmx) – Pollyester (Permanent Vacation)
Enter Galactic (Love Connection Pt 1) – Kid Cudi (Universal Motown)
Go Round Payloa – Jahdan Blakkamoore (Gold Dust)
Payola Riddim – Matt Shadetek (Dutty Artz)
Trocitos (DJ/Rupture & Matt Shadetek Rmx) – La Yegros (Dutty Artz)
Horario De Verano – Sonido Del Principe
Conjoined – Demdike Stare (Demdike Stare)
Black Belt – Busy Signal (KirkleDove/Jukeboxx)
Run Weh – Mr Vegas
Sometimes In Autumn (Shackleton Rmx) – Harmonia & Eno 76 (Gronland Records)
Virginia State Epilecptic Society (Fuck Buttons Rmx) – Manic Street Preachers (Sony BMG)
Surf Solar (7″ Edit) – Fuck Buttons (All Tomorrows Parties)
Fostercare – Burial (Hyperdub)
Aidy's Girl's A Computer – Dark Star (Hyperdub)
Videotape – Darkstar (Planet Mu)
Wonder Man's Flask – Take (Dublab)
Krakatoa – Architeq (Tirk)
Countryman – Kowton (Keysound)
Thriller (Extended) – Peter Pozerek
Peeled Apples (Andrew Weatherall Rmx) – Manic Street Preachers (Sony BMG)
4th Time Around (The Messengers Rmx) – J Period & K'naan
Foil Epee Sabre – Cougar (Counter)
Calculator – Micachu (Rough Trade)
Children Of The Sun – The Time & Space Machine (Tirk)
Be Quiet – Jean Jaques Dexter (Dirty/Born Bad)
And a right on-song pong it was tonight. All a bit of a voyage of discovery at the moment as I learn my way around the practicalities of the mighty fine Faderfox MIDI mixer, and the ludicrous possibilities of Traktor Pro… but what a gas it all is.
More importantly the tunes are coming through thick, treacly and excess essential at the minute – I can see there will be stuff from England that I will probably never get to play on the show, maybe an opportunity for a couple of mass postings.
As for England, they got this all wrong..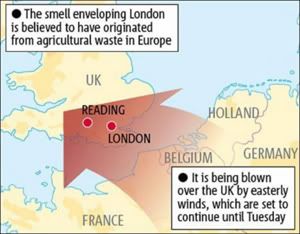 The noxious odours were spreading from further south – deep in the Pacific, and their origins were considerably more musical in nature.
Hanyways, a fair chunk of writing currently on the go, so maybe I'll wang out a non-radio show post (finally!) as light relief in the next few days. To tide things over – have to run a tune from what is undoubtedly one of the mixtapes of the year. Basically…. Somalian superstar in the making – K'naan, and discerning DJ Don-ito J.Period do over a bunch of Bob Dylan, Fela Kuti and Bob Marley over 3 sessions – all exquisitely dealt to with utterly essential interludes and a proper sense of proper. For my money (and I know I'm not alone on this) it's really all about the Dylan, this is the sort of thing that could come off so very very wrong, and yet it doesn't, at least for my money.. and I'm not generally well disposed towards folk mussing with some of my favourite songs.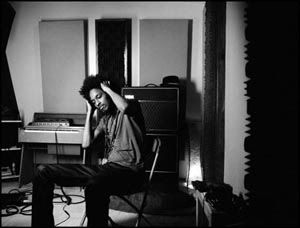 4th Time Around – J.Period & K'naan/Bob Dylan