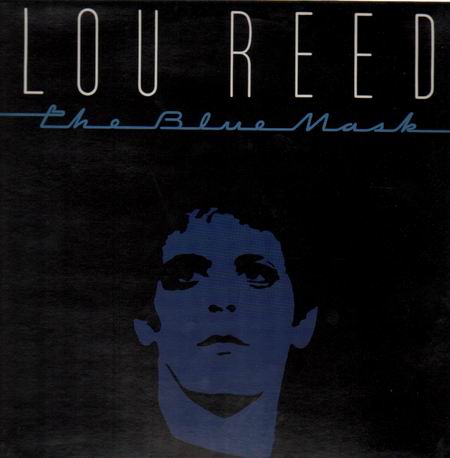 Ummed and aahed about playing some of the Lou Reed's work on the show tonight but what are you going to play, and what are you going to say, about a man whose words, music and influence have been so pivotal and personal. Even though it's been a long, long time since I've really looked forward to a Lou Reed record, this feels like a massive, crushing loss.
The image choice is because the only time I saw him play was on the tour for the Blue Mask in London, and though it's not nearly one of his best albums or shows (Robert Quine on guitar though, hard to argue with that), it will always be the signpost for me as to where I let it lie in the ongoing relationship with his cantankerous brilliance. Seeing him live completed it for me, but the love affair with a good chunk of everything up to (but not much beyond) Street Hassle is still very much aflame. Rest in glorious, grumpy peace Mr Reed…maximum respect.
Wicked Evil Man – Busy Signal Ft. Exco Levi (Larger Than Life)
Look A Start – Agent Sasco (Diwali)
Hungry Time – Richie Spice (Diwali)
Badd – Stylo G (3Beat)
Badd (Chong X Edit) – Stylo G ft Sister Nancy (soundcloud)
Dulce Amor (Rayo Mix) – Leandro Coman (soundcloud)
La Frekuencia – Paco Mendoza (soundcloud)
Cumbia Del Licenciado – Chico Sonido (XLR8R)
Espirita De La Isla – Los Beta 5 (soundcloud)
Mambo de Machaguay – Lucho Neves y su Orquesta (bandcamp)
Yamb Ney Capitale – Pierre Sandwidi (Kindred Spirits)
Killa Naa Ye Killa – L'Harmonie Voltaique (Kindred Spirits)
La Guitare De Tinga – Super Volta (Kindred Spirits)
Find Me in the Future – Jonwayne (Stones Throw)
Codes and Cab Fare – Black Milk ft Black Thought (Fat Beats)
You Took Your Time (Oneman Remix feat. Jeremiah Jae) – Mount Kimbie ft King Krule (Warp)
4u – christoph el truento (bandcamp)
we fly with the moon as our guide – christoph el truento (bandcamp)
New Laughter Mode (The Way In) – Laraaji ft Audio Active (All Saints)
TAkkelur – Rune Lindbaek ft Bogdan Loebl (Drum Island)
Tap Tap – Rune Lindbaek ft Super Sayed (Drum Island)
Parallel Jalebi – Four Tet (Text)
Setter – Bjorn Torske (Smalltown Supersound)
Galaxy (I'm the Ruler) – Bill Campbell & Aaron Harry (Lo Recordings)
Phoenix (Instrumental) – Eddie B x Harry Fraud (Dat Piff)
I Wanna Roll With You – Connan Mockasin (Phantasy)
Caramel – Connan Mockasin (Phantasy)
Do I Make You Feel Shy? – Connan Mockasin (Phantasy)
Feel My Pain – Kurt Vile (Matador)
Rollerblade – Kwes (Warp)
Who Am I? – Road To Shaanxi (True Panther)
The Deep Hum At The Heart Of It All (Andrew Weatherall Remix) – Michael Smith & Andrew Weatherall (Faber & Faber)
Hetrotopia (Young Marco remix) – Michael Ozone (ESP Institute)
Au Pays Des Merveilles De Juliet (Psychemagik Edit) – Yves Simon (soundcloud)
Giddy – Perera Elsewhere ft Gonjasufi (Friends Of Friends)
Le Bracelet – Alain Gorageur (Because Music)
sunshine – christoph el truento (bandcamp)
The Supreme Court – Bostro Pesopeo (Permanent Vacation)
Magic Hour (Mr Whiskers Black Power mix by Cornershop) – The Time & Space Machine (Tirk)
Reverberation – The Time & Space Machine (Tirk)
Back To Land – The Wooden Shjips (Thrill Jockey)
Rocket Man – Rocket Man (Because Music)
Energy – Irving Martin & Brian Dee (Lo Recordings)
Royal Flush – Fuck Buttons (ATP)
Lion Rockers are running their rig outside for the first time this Saturday November 2 from 10am – 4pm on their home turf in Piha. Shouldn't really need to say anymore than that, that's where I'll be come Satdee.. Friday is Magic Roundabout at Verona with yours truly from 5-9, and Dub from 9-1 – it never fails to delight……….