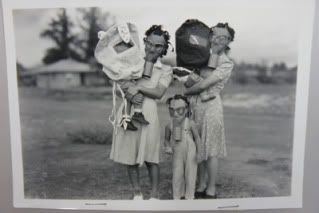 Hold The Line (Frikstailers Rmx) – Major Lazer (Mad Decent)
Government Gone Luuu – Busy Signal (Jukeboxx)
Dem Nuh Care – Busy Signal (Jukeboxx)
Dat Me Love – Busy Signal (Jukeboxx)
Fashion Attack – Konshens (Jukeboxx)
Yu Looking Hot – Lutan Fyah (Jukeboxx)
Nowadays Boopsie – Assassin (Jukeboxx)
History Book – Assassin (Jukeboxx)
Live Mi Life – Romain Virgo (Jukeboxx)
Children A Pree Wee – Tarrus Riley (Jukeboxx)
Whine – Elephant Man (Jukeboxx)
Freelancer Dub – Mikey Dread (Auralux)
Lost In The Supermarket – Wrongtom meets Rockers (Mojo Brand Records)
Piano's On The Beach – Jaques Renault (Hole In The Sky)
Don't You Feel Me – Damon (Now Again)
Dandelion – Charlotte Gainsbourg (Because/Elektra)
Heaven Can Wait (Nosaj Thing) – Charlotte Gainsbourg (Because/Elektra)
Evil Man (Flying Lotus Rmx) – Shafiq Husayn (Ubiquity)
Sounclash Pt 2 (Junglist Rise) – Naptha (The Fear)
Ba Ba Boom (oOgun Rmx) – Dub Asylum (Loopy Fruits)
Kingston Town – Radikal Guru (Dubbed Out)
Lost In 3s (DJG Rmx) – Dhyan Moller (Blipswitch Digital)
Blip – Gatekeeper (If Symptoms Persist)
4 – Aardvarck (Bloom 4)
5 – Aardvarck (Bloom 4)
Rust – Peter Pozerek
Viejas Locas vs Benga – Villa Diamante
Jerk Pork – Cardopusher (Lo Dubs)
La Rata – Lido Pimienta
Mueve – Lido Pimienta
La Subienda – Sonidero Cordobestia (Cabeza!)
Juego De Shabba – Joelito
Baile Remix – Ricardo Villalobos/Doma Tornadoes
Palo Borracho (Palo Choborra Iszen Rmx) – Iszen (Cabeza!)
C20 Riddim – Tapes (Jahtari)
Duck Butter – Randy Barracuda (Flogsta Dancehall)
Winter Beat – DJ Raff
Wizard Swing Warrior – Benny Blonco (Error Broadcast)
Major Spillage – White Rainbow (Kranky)
Eyen – Plaid (Warp)
Wolf – Blue Daisy (Black Acre)
Cathedral With No Eyes (White Rainbow Rmx) – Railcars (Aria Jalali)
Antillas (Bass Clef Rmx) – El Guinicho (Young Turks)
Skylarking (Instr) – Jefferson Belt (Round Trip Mars)
Tropical Disease – Air (Virgin)
Lucky last of the year and luck, luck lucky I was, as I barely had my head screwed on at the start of the show, and it took a good half hour plus for the resumption of normal service. I blame the muggy weather and the unique AK city atmosphere at this time of year when most have shipped out to the beaches and the relis, and the city is in soft-focus, swing easy mode… well I always find something to blame!
In case anyone's headed up that way my sets for Music Mountain Matakana are at 4.30 and 9.30 on New Years Eve. I'll be joined by the his Mightyness The Asterix and that alone is worth a trek in my book, cant wait and am amassing some fresh versions for his perusal and lungulation, there'll be some cumbia sneaked in there for sure!
This may well be the last post for this year so if it is…. then please accept the sincerest thanks for your patronage, time, indulgence, patience, responses and all the rest through 2009. Who knows I may be more organised and blogging like a man possessed next year, but once again I wouldn't trouble the bookies with that waft of potential life-changery.
LA SUBIENDA – SONIDERO CORDOBESTIA (I'll get this up when I'm not at dial-up speed, you can download the whole 4 track EP for free from the links above anyway, you wont be disappointed!!)
HOLD THE LINE (FRIKSTAILERS RMX) – MAJOR LAZER FT MR LEXX & SANTIGOLD