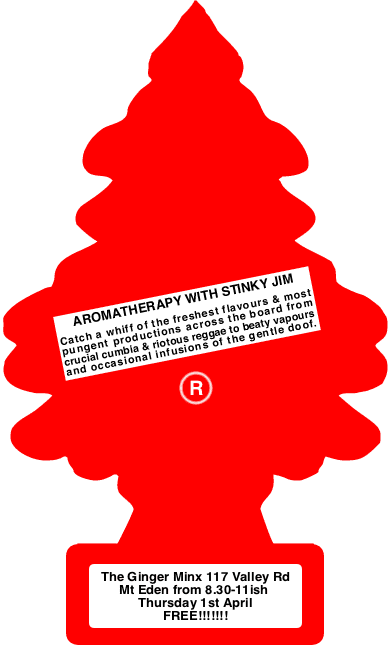 Music Is In My Soul – Sizzla (John John)
Rudie Don't Fear – Alborosie (John John)
Sweet Jamaica – Tarrus Riley (John John)
Zion Gate Version – John John (John John)
Trust In Me – Sanchez (John John)
Water Pumping Riddim – John John (John John)
Pay Down – Macka Diamond (Massive B)
Step Up In Dem Face – Burro Banton (Massive B)
Bap Bap – Junior Cat (Massive B)
Heavy Weed – Khari Kill (Massive B)
210 Computer Riddim – Massive B (Massive B)
Clarks Again – Vybz Kartel (Head Concussion)
The General – Timberlee (Ward 21)
Reject – Tifa (Ward 21)
Me A Go Fe Mine – Agent Sasco (Ward 21)
Dem A Pree – Mr Lexx (Ward 21)
Controversy Sells – Gappy Ranks (Greensleeves)
Pon Pause (Mr Leub Pass Out Rmx) – Cutty Ranks
Pass Out – Tinie Tempah (EMI)
Pass Out Instro – Tinie Tempah (EMI)
Pass Out (Wrongtom's Resucitation) – Tinie Tempah
Fake Patois – Das Racist
Tubby's & Rock 92 Street – Sound Iration (Year Zero)
Doble Troble Master – Copia Doble System (Urban World)
Gabriela – DJ Rost con Mamacita
Progreso – Lido Pimienta
Antiguos Duen Os Del Skunk – Doma Tornadoes (Hipi Duki Muzik)
Triangle Walks (Un Mono Azul Rmx) – Fever Ray
Beat – SDP vs R Kelly
Cumbia Colegiala (Mezcla De Soleo Rmx) – Copia Doble System (Urban World)
Maneteo En Menor (Tremor Rmx) – Radiokijada (March Music)
Aqui Conmigo – Lido Pimienta
Cumbiandero – Super Gauchin (Cabeza!)
Pega La Gilda – Super Gauchin (Cabeza!)
Counteraction – J:Kenzo (Argon)
Orpheus – Pariah (R&S)
Kaychunk – Kyle Hall (Hyperdub)
Tumble – Ramadanman (Hessle Audio)
Maybes (James Blake Rmx) – Mount Kimbie (Hotflush)
Darkness (The Welcome Stranger Retold) – Grevious Angel
Raga Lalit – Charanjit Singh (Bombay Connection)
Red Marker Pens (Good Ending) – Ikonika (Hyperdub)
Gunship – Locossolus (International Feel)
Disco Umpty Number Six – Andrew Weatherall (Rotters Golf Club)
Quiere Bailar La Musasha (Orig) – Nino Herrero
Cumbioso – DJ Dus
La Rata – Lido Pimienta
Pack Man Cumbia 2 – Jpshuk
Fantasia Tropical – Pernett
A whole heap of very special stuff on the show this week. My semi permanent online state of lurking around the sifty corners of Soundcloud where the people peddling that good good cumbia (and other remarkable musics) frequent, has led to many mails from my end offering to pay or somehow purloin the really standout tracks that aren't downloadable at the level I like to adhere to for Stinky Grooves. More than anything that's the reason so many of the tracks on playlist don't have a label bracketed, if you want to investigate any of them tracks further and be smart about it then I suggest add name + soundcloud and get yer googular on, a world of rhythmic riches and sonic surprises awaits you, just don't blame me if you lose hours or even days following your nose from there. Most notably tonight's show featured a couple of gems from Copenhagen's monstrously endowed in the bass department outfit Copia Doble System's new 'Cumbia Colegiala' EP which is available from the link below (so Im not posting a track from it…buy it goddamnit). Asmund from CDS was kind enough to furnish me with the parts of their stonking EP I wasn't able to reach elsewhere (it's only just actually emerged on Juno) and this one has got it all – from infectious new cumbia crucialities, a percussive punch down, Maga Bo masterphonics, Chico Mann taking it on safari … you name it they seem to have snaffled it with aplomb.
Check em out on their soundcloud page and check
Buy the >full flaming fandangle from Juno, you won't be disappointed!!
Maybe even pipping them at the post in the 'how bleeding excited can you get about music stakes' are Lido Pimienta and Pernett who have delivered a jumbo package of Columbian originated goodness to my internet shack and real deal physical mailbox this week. I have a post coming up hexculsively about those two vital talents very soon, so I wont say too much now but Lido's 'Color' EP is my release of the year thus far by a country mile (Pernett's was last year so I'm copping my L pass and the 5th for good measure, on that one) and can be bought from her myspace page right now.
Couple of gems to drop on you this week. First up John John the same named son of the great King Jammy, has just dropped a couple of revive style top rankers which buck the trend by being good rhythms with (arguably) not enough vocal cuts. How often do you get to say that, instead of the opposite (crap rhythms/too many slaverage vocalists with nothing to say)? Both the 'Water Pumping' (as in the Johnny Osbourne dancehall classic) and 'Zion Gate' (need I say more) are freely available on them internets, so get your digi digging on if you want to check the top class cuts from Sizzla, Tarrus Riley, Alaborosie and our romancing semi-vet Sanchez riding the latter. From the former here's the only cut thus far which is Sanchez again with a swoonsome croon that it would take a chilly soul not to be pleasantly troubled by. Seeing Sanchez perform in JA and the effect he has on the ladies is quite something else, he could sing the phone book and there'd still be excess perspiration and serious shouting from the JA females
Sanchezspac
Sanchezonweb
Yer little Easter egg bonus is a relick of the UK #1 single 'Pass Out' by Tinie Tempah which is pop grime brilliance in my book. It got more of a wash cycle than the full rinse tonight with the scorcher below featuring Cutty Ranks, Wrongtom's masterful re-rhythm which finds him basically slenging his teng but in an creative and refreshing way (you can hear it streaming here, I was unsullied enough to cop a playable one from the Righttom himself) as well as the original and that mighty mighty instrumental. When I first spied the chronically overblended Cutty Ranks on this I was a touch reticent, but the Frankfurt vibesmeister (and erm… student) who is all over quality locales like Generation Bass and Dutty Artz has dressed this up nice and done right by the beat butcher. Enjoy and check the original which is all up in yer iTunes and whatnot, they've even got the instrumental up there, hope to hear some local yokel MCs wrapping their tonsils round this for mixtape business in the near future.
MrLeubspace
CuttyRankspace
TinieTempahspace
hope to have something up over Easter if I can wrassle myself away from me Maschine. Happy holidays and all that tat.