Have to say it twas a bit of a lovely old weekend out at Splore. As usual there were scheduling conflicts, and with the full-nana mode of driving out there and back, some shit that was just too late (Instra:mental and D Bridge were the two I really wanted to check and couldn't) but there really was nuff vibes and plenty of tunes to be had for the discerning punter. Of particular note were Geezer Guy, Dave Seeka and Wendy Douglas who all fully capitalised on the excess niceness going down at the Rum Shack, and without a shadow of doubt the motherfucking Gaslamp Killer who simply incinerated the DJ stage on Saturday night.
Listeners to the show have been hearing this wiry haired wunderkid's productions and mixtapes for quite some time but that really couldn't begin to prepare anyone for the elephantine bass maneuvers, rawk smacks (bit of Endrix, bit of Sabbuf…larvly) and fully animated freakshow he put on to a ready, receptive and rammed crowd on Saturday night. With more than a hint of Animal from the Muppets in his stage persona he's a DJ who leaves you in no doubt as to how much he rates that tune.. and the next one… and the next one!
Now I know this is a busy week, stoooooopid busy – but if you are able, and do not go to check him on Thursday at Bacco, well I sorry for you. This is beyond a must, serious business. Of course with a little strategic planning you can come by the Ginger Minx first where I'll be dispensing liberal doses of Aromatherapy and a whiff of warm-up from 8pm on (flyer up manana) and join me in heading up the road for Gaslamperation and musical murder most foul on Nelson Street afterwards.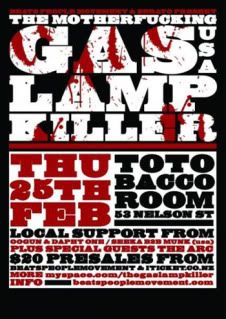 Also cutting a rug and making a date with the crates is the evergreen Gilles Peterson on Friday night when he'll be adding his hoo-ha to the always dependably sturdy Turnaround vibes. I wrote the flyer for this one, so at the risk of repeating myself.. in brief, it's been a veritable age since the man who probably has a sizable cardigan collection has done a proper oper club set down these ways and it's going to get heated Turnaround style and fashion. Smart money says get a ticket from Conch beforehand, and hope the night isn't too humid if you don't like it sweaty Betty.
And it just goes on with not one but two gigs Saturday night. First up (time unconfirmed thus far, keep you posted) is the Venice Beach Party at the Ginger Minx. Not quite sure where I place myself thematically with that one (have got mighty blasted at Venice Beach a couple of times so maybe it will be a wired West Coast wonakdelica showdown from me) but it's a lion-hearted line-up of right honourable residents with top ranking Raag, that man Seeka once again, Ben of Wah, Loki and Andy Beck all coming correct. Should be fire, and you know how it runs at the Minx – free on the gate leaving you with many pennies for making merry.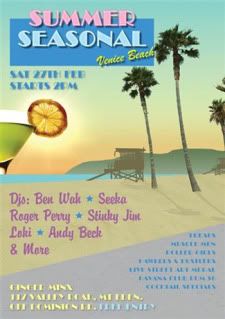 Then … and finally for this exhausting schedule it's up to Khuja for a bit of back-up for me old mucker Mystro, another one who went down well on the weekend at Tapapakanga Regional Park. His regular decksman, the irrepressible Mikki Dee is unavailable so I'll be pinging down the tunes for Mys and I presume flexing some more. Not sure on details, and dont have a flyer for that.. so again, please check back.
PSA over. Got some killers for tomorrow night lined up already!!! Back to the prep.. prim prim.