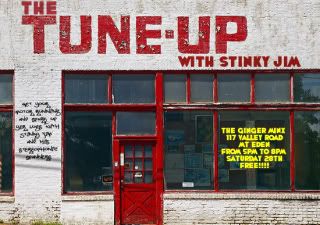 In time honoured tradition a tad tardy with this one, bit of date confusion (it's the new black) at my end, meant that I didn't get the chance to hoot this out on the radio as I should have done last night. Starting this Saturday, and running for the next four weeks until they close for Christmas, is a brand new'un The Tune Up. In laymans terms that means I'll be fiddling with files in order to make a joyful noise and righteous racket from 5-8pm at the Ginger Minx, and it's no cover bruvva/free as a bird.
I've done this slot once before and even through a slightly enjoyable jetlagged haze it struck me as a nice and decent time to be playing some quality music of a mixed up and most edifying nature. I've steered clear of anything like a residency for the last five years, but the vibes and enthusiasm of the bar, the fact that it's close enough to home to feel like playing at the local, and the curious timeslot which allows for some musical meanderation (in the nation, on the station, keep on adding to this list to you own degradation etc etc) all appeal.
So Aucklandites it would be simply splendid and most copacetic if any of you fancied a tip top tune or two (in fact I pledge many more than that), a beverage etc in a decent spot with easy-access smoking and all the trimmings. Following my stereophonic spanneration Andy Beck will be bring his Mixed Crate of liquid d'n'b, and for thems that don't know The Ginger Minx is part of The Dominion, corner of Dominion Road and Valley Rd, as such it's a hood hop for all Mount Edeneers, Kinkslanderators, Sandringhamalamadingdongs and Newtonbombs..etc etc, OK I'll stop now, a monstrous ta to Cherry Sprinkles for whipping up the flyer on the ..erm fly.