There's nae point in rambling on about every gig that comes up, however the Tiger Translate party which is happening on Friday, 21st of Nov, taking over the Fu & Zen, is a right scorcher. The live line up includes Onra, summoned from his Parisian lair, as well as the (also well traveled) locals The Naked And Famous and Coco Solid. DJ action will be provided by the incomparably gorgeous Maiden Hong Kong and incomprably less-so yours truly, with Cian and Nick D bringing up the rear, ooh err. Peep on for details, tunes, set times and of course ting.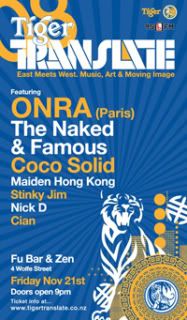 The Vietnamese-French producer and DJ caught my eye with his 'Chinoiseries' album, earlier this year. For starters it looked the part, and the briefest of spins on the decks confirmed it was something a little special. Comprised of 32 beat vignettes, most barely troubling the two minute mark, it's a response to a visit back to the land of his grandparents where he picked up a bundle of comfortingly scratchy Vietnamese/Oriental vinyl. Ideal for short attention span listening, I got hooked on the whole double-vinyl deliciousness, raved about it in Real Groove and offered up the blinding standout 'The Anthem' to the 95bFM programming panel for consideration. It met with universal appreciation, playlist approval, and I believe may have wormed its way into more than a few listeners affections, its certainly got Troy good and proper. There's a whole other fandangle with Coke and the Olympics to do with that song, which you can read about at the excellent Pinglewood blog.
So basically I'm as keen a pot of Dijon to check feller out, and he's going to be doing separate live and dj sets, here's a couple of cuts to get masticating on. Impossible to go past 'The Anthem', and 'I Wanna Go Back' would pass muster on the fact that it samples one of my favourite and frankly over-collected melodies 'Love Is Blue'…. aaaah.
(Buy)
(Moi-espace)
ONRA – THE ANTHEM
ONRA – I WANNA GO BACK
Having shown and proved (and improved) on their recent trip to NYC for CMJ, under the steely supervisory gaze of… err me, The Naked And Famous are robustly rockulating right now. This would be the place to put some informal or incriminating (not so much really) shots from the trip, if only I hadn't given up on the camera at their first show. After five or six years away I felt like enough of a tourist in New York, and you can't get near the stage at CMJ shows because the front 3 rows are rammed with bloggers and their telephotos anyway, it's a plague. Instead let's have the deadly videos for 'Serenade' and 'Birds' (clink of the glass to Special Problems) and what remains my favouritest song (probably, possibly, well for right now) from the 'No Light' EP 'Bells'.
THE NAKED AND FAMOUS – BELLS
Coco Solid rule. That's not an opinion, just fact. I wont wank on about the Coco greatness, Ive already done that with the new album here and 2007's 'Gentlemen Prefer Bombz' in my Top 1o of tha year, here, both for The Listener. Due to synchronisational overcommitment and cruel luck I've missed the last two Auckland shows, however with Mz Solida back from Red Bull Academising in Barcelona this one's sure to go off like a particularly ripe Stilton…with wheels.
There's an exceptionally limited and eminently desirable Coco Solid 12″ which may still be available aqui
(BUY) you know it makes sense.
(Cocospace)
(Offishall Website)
Their clips are quite the choicest.

COCO SOLID – BLACK ZEN
And foinally because we're nice like that here's a couple of bonuses from MHK and me, SJ, below, plus the full running order. In fact if you're sharp you can still register for a couple of free tickets AND free beers, at the Tiger Translate site, that aint going to last, or you can win em on 95bFM if your blagger swagger is a little diminished.
Way too many words already so briefly Maiden Hong Kong has selected Romain Bno's 'Dont Unless' edit from the Edits Du Golem series as one she'll be playing. This whole EP's off the bleeding kajizzle and quite tricky to trackdown now, what is it with the French and edits?? This lot say they still have it, (BUY)
ROMAIN BNO – DON"T UNLESS
I'm plumping for this brilliant mix of 24 year old Brit, VV Brown, getting a defiantly unclassifiable Andrew Weatherall remix. I actually bought this for the dub, little did I know the vocal is well tight in a kinda loose 'Monster Mash' way. When I ran this cut out at DJ Baku it was like I'd given everyone in the room a tenner, dancefloor ram!
(BUY)
VV BROWN – CRYING BLOOD (ANDREW WEATHERALL REMIX)
It goes a little something like this….
TIGER TRANSLATE RUN TIMES
Fu:
Maiden Hong Kong: 8:00 – 10:00PM
Nick D: 10:00 – 11:45PM
ONRA (DJ Set): 11:45 – 12:45AM
Cian: 1:00 – 4:00
Zen:
Stinky Jim: 9:00 – 10:00PM
The Naked & Famous (live): 10:00 – 11:00PM
Stinky Jim: 11:00 – 11:45PM
Coco Solid DJ: 11:45 – 12:00AM
Coco Solid: 12:00 – 12:45AM
Coco Solid DJ: 12:45 – 1:00AM
ONRA (live): 1:00 – 2:00AM
Nick D: 2:00 – 4:00AM
Next, after this tsunami of bloggeration, we will have the new SJD video for 'No Telling Where' up here in the next 24/48 hours….wooopee.