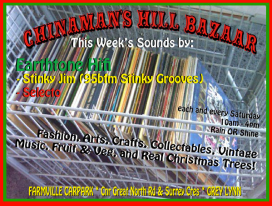 Because I'm an egg, and also have a few things on at the minute, I forgot to mention on Tuesday night that I'll be playing a selection with my good mucker Selecto at the Chinaman's Hill Bazaar tomorrow (December 1st). Details are 'pon flyer up above, I'll be running some from 12ish-2ish – lunchtime largeness.
Will be my first chance to check out the CHB, but I've heard good reports, so do please come have a skwizz or a gander.
On another tip the tracklist and download link are finally up for Stinkmix 13 which was posted earlier this week, Divshare is proving worse than useless so we'll be making some changes there.